In October, Dennis Crowley, Naveen Selvadurai and the other folks at NYC-based Foursquare launched their game/network/application in Omaha and Kansas City. For those that don't know, Foursquare is an online location-based information system that applies a game-like atmosphere to exploring various locations in a specific city. Utilizing your phone, you check-in at the locations, see who else has checked in, earn points and unlock rewards for multiple trips to the location.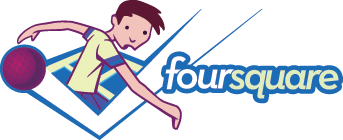 We're happy for our friends in those cities but were surprised that they didn't include Des Moines. As most people are aware, the three cities of Des Moines, Omaha and Kansas City form a powerful triangle of Midwestern innovation. Coincidently, Highlight Midwest – a conference that features innovators in this triumvirate – was held just a few days later in Des Moines but the Kansas Citians and Omahans couldn't use the app to check in at Impromptu Studio, the Des Moines Social Club, the Pappajohn Sculpture Park or any of the locations frequented at the event. Color us all disappointed.
Another round of cities was released on the platform in November, yet DeMo was still conspicuously absent.
Since it's now December, something needed to be done. Nathan T. Wright and I chatted about it and decided it was time for his organization, Lava Row, to join with mine, Silicon Prairie News, to specifically highlight our community. As Midwesterners, we sometimes have trouble calling attention to ourselves and the great things we have here. We didn't want the Foursquare crew to go another round missing out on the locales and people that make our community unique. After all, Des Moines is the Greatest City in the World.
The decison was to put together a cultural gift box with just a few of the things that make Des Moines unique.
We started by purchasing a couple t-shirts from RAYGUN, our local purveyor of screen printed goods and abject declarations of city pride. I picked out the blue one while Nathan and his colleague Hillary Brown grabbed the "Periodic Table of Des Moines" one, which could just as easily be called the "Foursquare" t-shirt since it features many of the local shops, bars, and cafes that will become the locations where our community will check in once Foursquare hears our call.
Next, I stopped over to Baby Boomers, the local diner that gained fame as a popular hangout for President Obama's campaign staff during the 2008 Iowa Caucuses, and picked up a half dozen of their Chocolate Chunk Cookies. This cookie, a favorite of the President, himself, has been named the official cookie of both the White House and the City of Des Moines.
Finally, Hillary gave a call to Jason Walsmith of The Nadas and Authentic Records. The former is the Des Moines-based roots rock band and the latter is their Des Moines-based record label. Jason, ever the proponent of our city and our state, was excited to have Foursquare in Des Moines and contributed a couple Authentic Records t-shirts and The Nadas' most recent release: The Ghosts Inside These Halls.
I packaged up the goods and dropped them into a USPS box and sent it off on December 2nd to Foursquare's New York City HQ adorned on top with this note: (eloquently penned by Nathan)
Hello Foursquare!

We noticed that Des Moines hasn't been added as a city yet. We're sure you just overlooked us. So we thought we'd bribe you with a sampling of DeMo culture. Enjoy, and happy holidays!

-Your friends @ Lava Row and Silicon Prairie News
So Foursquare, you now have our food, our music and our merch(1). When can we have your app? Next time you're considering which cities to include in a rollout, we'd appreciate it you said, "Des Moines: Hell Yes".
(1) We considered our beer and our whiskey, too, but didn't want to risk shipping them through the mail. Give us a shout next time you're in town and will buy you a drink directly.
Also, tip of the hat to Scott Kubie for his input early on in the project.